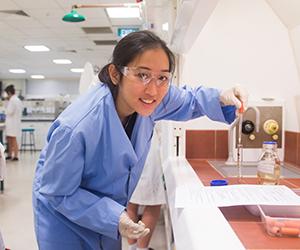 Twenty-year-old Shanae is studying for a Bachelor of Secondary Education at Charles Darwin University, Casuarina Campus, as a full-time student. She has spent all her life in the Northern Territory. She has a passion for effecting change, supporting causes, enhancing learning, and displays understanding and empathy beyond her years.
Her academic results, for the first two years have been outstanding, in spite of her need to work part-time to support her studies. Her drive to embrace a teaching career is based on some excellent role models from her school years and "I felt I could approach hard concepts from different angles and that allowed me to teach others the learning to suit their needs".
She has chosen to contribute to a wide variety of community projects based on her love of science, the environment, music, welfare problem solving and considerable concern for support of rural and remote people. She has researched husbandry requirements for the Northern Australian Chameleon Shrimp; established music programs for young musicians to busk, play, plan and perform for audiences; examined indigenous education models which culminated in an Indigenous Perspectives Mind Map; and participated in nation-wide problem solving expos. Shanae has produced her own free community event in support of young musicians and animal welfare charities. Last year she was invited to Sydney, NSW, to share her community leadership ideas at the DIGI Engage forum, an initiative of the Australian Government and the non-profit advocacy group of the digital industry worldwide.
The forum provides a base for young people to explore identity, diversity and leadership.
Shanae is also a mentor with the Beacon Foundation's My Road program which allows young Australian's the opportunity to connect with industry role models at no cost. The program also uses video platforms to reach young people in rural, regional and remote areas. A deep-seated love for animals, both domestic and wild life, has grown through her involvement in work placements in animal hospitals and a tourist crocodile attraction. She has also completed placements within various Government Departments and has strong references from Territory Families' Youth Justice personnel and Youth Outreach and Re-engagement Team members.
This motivated, responsible, efficient person is adept in both team and individual situations. Her credo is "I am always wanting to change myself to improve and this is essential within the field of teaching". A most worthy recruit for NT education!
Donor: The Order of Australia Association
Mentor: Mrs Judy Boland